Athena Career Academy is pleased to announce we now offer training as a phlebotomist.  We have included some of the most common questions about our program!
What is a Phlebotomist?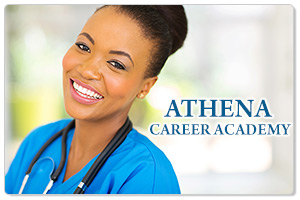 Phlebotomists are allied health professionals who draw blood from patients or blood donors for medical testing. They can also prepare and process blood tests. Since bloodwork is often the least favorite part of a trip to the doctor's office, it takes a skilled phlebotomist to know how to handle each patient and situation.
Classes Enrolling Now, Click Here to Apply!
Where do Phlebotomist Work?
Phlebotomists work in clinical laboratories, hospitals, community health centers, nursing homes, doctor's offices, blood donation centers and other health care facilities. They are usually supervised by a clinical laboratory technologist or other medical professional.
What are the admission requirements?
Persons interested in attending the Phlebotomy Program must meet the following criteria for admittance:
Complete an online application for admission.
Attend an informational meeting with an admissions representative.
Attend an individual meeting with controller to discuss payment options and sign tuition payment agreement.
Sign an enrollment agreement.
Complete an online State of Ohio Disclosure Course.
Submit a registration fee of $25.
Students payment is due prior to first day of class, payment and amount is based on tuition payment agreement.
Provide a copy of valid government identification and signed social security card.
Submit a copy of a high school transcript or GED transcript.
Complete an emergency medical form.
Attend the orientation session.
What are the duties of a Phlebotomist?
You would be responsible for collecting blood samples from patients, labeling them correctly and sending them off for analysis and testing.You will need a calm and friendly manner with the ability to put patients at ease, and it goes without saying that you don't mind the sight of blood.Phlebotomists must be extremely accurate and careful. In a busy facility, they may take dozens of blood samples during a typical shift. They must be able to work under pressure without sacrificing accuracy or safety.Fine motor skills are needed to successfully insert a needle into a vein. Phlebotomists also must be well-organized, with extremely good attention to detail.
How long does it take to complete the program?
Athena Career Academy's Phlebotomy program is approximately 180 hours of study and is taught over a period of approximately twelve (12) to eighteen (18) weeks. The Phlebotomy program includes 120 hours of classroom and 60 hours of lab participation. Students can choose to complete the optional 120 hour externship. Upon successful completion of this course, students will receive a certificate of completion and will be eligible to take the National Certification Exam to become a Phlebotomist.
What types of courses are taught in this program?
Courses include the fundamentals of phlebotomy, anatomy and physiology, health and public safety and medical terminology.
Athena Career Academy Phlebotomy Program Cost
Pre-Registration Costs

Entrance Assessment Fee (Paid to School)
$25.00

Program Costs

Registration Fee
$25.00
Books, Supplies & Fees
$484.00
Tuition
$2,853.00
 Total
 $3,362.00

Licensure Fees (Paid to the school)

Certification Test Fee
$117.00
| | |
| --- | --- |
| Externship (Optional) | $99.00 |
Phlebotomy Student Resources
Student Handbook
Phlebotomy Disclosure
Campus Policies and Procedures Handbook