Athena Career Academy offers training as a Clinical Medical Assistant. The Clinical Medical Assistant (CMA) Program is designed to teach students the skills necessary for employment in the modern medical facility. We have included some of the most common questions about our program. Please contact us for more details!
What is a CMA?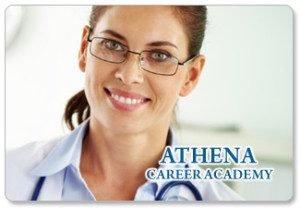 A Clinical Medical Assistant (CMA) is capable of performing a wide range of duties, for example taking medical histories and recording vital signs, preparing patients for examination and assisting the physician during the examination. These skills are so vital that the Department of Labor lists medical assisting as one of the fastest growing occupations.
Where do CMAs work?
You usually find CMA's in primary care (basic, rather than specialized) facilities because of their generalized education. You can think of primary care as the first stop for a patient who is seeking treatment but may not know exactly what kind of treatment they need yet. CMA's work in modern medical facility like physician offices, hospitals and outpatient care centers.
What are the admission requirements?
Persons interested in attending the Clinical Medical Assistant Program must meet the following criteria for admittance:
Complete an online application for admission.
Attend an informational meeting with an admissions representative.
Attend an individual meeting with a financial aid administrator for funding arrangements.
Sign an enrollment agreement.
Complete an online State of Ohio Disclosure Course.
Provide a copy of valid government identification and signed social security card.
Submit a copy of a high school transcript or GED transcript
Complete an emergency medical form.
Attend the orientation session.
How long does it take to complete the program?
Athena Career Academy's CMA program is approximately 800 hours of study and is taught over a period of approximately 7 1/2 months plus an additional 6 week externship.  The CMA program includes 640 hours of classroom and lab participation along with a 160 hours externship experience in which the student will be able to practice learned skills in a real-life working environment and closely interact with the physician and health care team. Upon successful completion of this course, students will receive a certificate of completion and will be eligible to take the National Certification Exam.
What types of courses are taught in this program?
Courses include the fundamentals of medical assisting, anatomy and physiology, psychological aspect of patient care, medical terminology, CPR, first aid and emergency care.
When can I start?
New classes start approximately every 6 weeks; however, all required documents and out of pocket expenses must be submitted by the registration deadline.
This field is in very high demand and job prospects are great according to the Department of Labor! Click here for more details!
Athena Career Academy CMA Program Cost
| Pre-Registration Costs |   |
| --- | --- |
| Entrance Assessment Fee (Paid to School) | $25.00 |
|   |   |
| Program Costs |   |
| Registration Fee | $120.00 |
| Books & Fees | $1,975.00 |
| Tuition | $11,700.00 |
| Total  | $13,795.00 |
|   |   |
|   |   |
| Certification Fees (Paid by the School) |   |
| Certification Test Fee (School pays for first attempt only) | $120.00 |
CMA Student Resources
Student Handbook
Return to Title IV Funds
Satisfactory Academic Progress Policy
Clinical Medical Assistant Disclosures
Campus Policies and Procedures Handbook