Athena Career Academy specializes in the field of nursing. You can train to become a Practical Nurse in just one year. This career is in very high demand and provides very lucrative compensation. We have included some of the most common questions about our program.
What is a PN?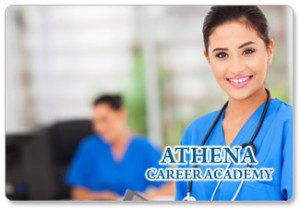 Practical Nurses (PN) provide patient care to the sick, injured, convalescent, and disabled under the direction of physicians and registered nurses. PN's administer medications, perform IV therapies, monitor and evaluate care needs, check vital signs and perform procedures such as bathing, dressing, and wound care. They also supervise the care delivered by the nursing assistants, home health aides and medical assistants.
Where do PNs work?
PN's work in settings like hospitals, long term care and rehabilitation facilities, outpatient facilities, clinics, and home care.
What are the admission requirements?
Persons interested in attending the Practical Nursing Program must meet the following criteria for admittance:
Complete an online application for admission.
Attend an informational meeting with an admissions representative.
Students must successfully pass the WorkKeys ACT Entrance Test (upon receipt paid by student $30.00) or submit proof of passage of the WorkKeys test from ACT taken at another approved testing site completed within the year. WorkKeys testing information and study links are available and provided by your admissions representative or available at act.org. 
Attend an individual meeting with a financial aid administrator for funding arrangements.
Complete an online State of Ohio Disclosure Course.
Submit a copy of a high school transcript or GED transcript
Provide a copy of valid government identification and signed social security card.
Citizenship requirements include I94 card with date of entry, current passport, and proof of alien registration number if applicable.
Provide proof of American Heart Association BLS- Healthcare Provider CPR.
Complete a physical that is signed and dated by a physician or qualified medical representative within one (1) year of start date.
Complete and pass a drug screen within 90 days of start date.
Provide immunizations records, which include:

A 2 step PPD within one (1) year of start date or an initial 2 step PPD with documented proof of annual one (1) step PPD. – OR – CXR within one (1) year of start date.
MMR, Varicella, Hepatitis B series/waiver, recent Tetanus, and/or Titers.
ALL health records MUST be completed by the first day of class

Complete a BCI and FBI criminal background check and fingerprinting within 90 days of start date. The background checks are subject to approval and/or consultation with a director.
Sign an enrollment agreement.
Attend the orientation session.
Provide proof of the current season's flu shot.
How long does it take to complete the PN program?
The PN program at Athena Career Academy takes one year to complete with day classes and 16 months with evening classes.
Will I be licensed at the conclusion of the program?
Because of the high level of patient responsibility, nursing is highly regulated, requiring both education and a license. Graduates must complete a state approved practical nursing program and pass the National NCLEX-PN Nursing Board Exam.The Board of Nursing regulates nursing education programs in Ohio that prepare students for initial licensure as a PN. Athena Career Academy has been granted full approval by the Ohio Board of Nursing for our program.
What types of courses are taught in the program?
Course work in the PN program includes courses such as anatomy/physiology, fundamentals of nursing, pharmacology, obstetrics, pediatrics, medical/surgical nursing, geriatrics, IV therapy, and professional transitions.
What is included in the PN Program?
The PN Program is an all-inclusive program that includes:
PN Training
Clinical Practicum
Books & Materials
Lab Fees & Supplies
Uniform
State Board of Nursing Test Fee
Simulation Lab Training
How much are PNs compensated?
The majority of our graduates have been placed in nursing positions that make up to $25 per hour!
Where can I take my classes?
Our Practical Nursing Program is offered at our campus, 5203 Airport Highway, Toledo, Ohio.
When can I start?
Athena Career Academy Practical Nursing Program Cost
| Pre-Registration Costs | |
| --- | --- |
| Entrance Test Fee (paid to school) | $30.00 |
| Drug Screen (paid to school) | $25.00 |
| | |
| | |
| Program Costs | |
| Registration Fee | $120.00 |
| Books, Uniforms, Supplies and Lab Fees | $1,775.00 |
| Tuition | $20,800.00 |
|  Total |  $22,695.00 |
| Licensure Fees (Paid to 3rd Party)* | |
| PN-NCLEX (Ohio or Michigan) School pays for first attempt only | $200.00 |
| Records Check Prior to State Exam Student pays | $85.00 |
| Application Fee (Ohio) School pays initial fee only OR | $78.50 |
| Application Fee (Michigan) School pays initial fee only | $135.00 |
*See Admissions Rep for details.
**Athena students are able to apply for a Nursing Clinical Partnership Grant of $1,200.00 which is completely funded by the school. Click here for more information, click here.
PN Student Resources
PN Student Handbook
Return to Title IV Funds
Satisfactory Academic Progress Policy
PN Disclosures
Campus Policies and Procedures Handbook