Athena Career Academy offers training as an EGK technician. Our students learn in an active, student-centered lecture environment, coupled with the necessary lab time to master the skills and complete the required number of EKGs for certification. The program will give students the knowledge and experience to take and pass the National Healthcareers Association (NHA) EKG Technician certification examination (CET).
What is an EKG Technician?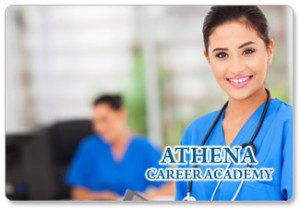 An EKG technician preforms electrocardiograms or EKGs. An EKG is a test that monitors the heart's activity and detects certain heart conditions.
Where do EKG Technicians work?
EKG technicians are generally employed in hospitals, but others find employment in physicians' offices and facilities that perform diagnostic testing alongside doctors, nurses, and other diagnostic technicians.
What are the admission requirements?
Complete an online application for admission.
Attend an informational meeting with an admissions representative.
Sign an enrollment agreement.
Complete an online State of Ohio Disclosure Course.
Submit a registration fee of $120.
Tuition, books and fees is $895.00.
Provide a copy of valid government identification and signed social security card.
Submit a copy of a high school transcript or GED transcript.
Complete an emergency medical form.
Submit a copy of a Medical Assisting or Practical Nursing transcript.
What type of courses are taught in the program?
Courses include Body Structures and Functions, which provides the students with an in-depth understanding of the anatomy and physiology of the human body, Biological principles, as well as the structural and functional relationships among several organ systems and Electrocardiography, which provides the student the knowledge and understanding of the EKG machine as an important diagnostic tool in healthcare. Further, the student gets hands-on practice in the use of the machine as well as practice in analyzing and evaluating the EKG trace
What are the duties?
EKG Technicians often are in charge of explaining to patients the procedure, performing the procedure and giving the information gathered from the test to a doctor.
How long does it take to complete the program?
The program takes just 6 weeks to complete and takes place at our Campus in Toledo.
Athena Career Academy EKG Technician Program Cost
Program Costs

Registration Fee
$120.00
Books and Fees
$205.00
Tuition
$690.00
Total
$1,015.00

Certification Fees *

Certification Test Fee
$117.00
*See Admissions Rep for details.
EKG Student Resources