**WE HAVE MOVED!***
This new facility will be triple the size of our current building, allow us to improve our student experience with more lecture rooms and labs, larger computer labs and will allow us to accept more students, all less than 10 miles from our current location! Our address is 5203 Airport Highway, Toledo, Ohio, on the corner of Reynolds and Airport. Please call us with any questions!**
Athena Career Academy is dedicated to the personal success of our students. Through this commitment, we have developed a comprehensive curriculum designed to prepare students for a satisfying career in today's economic environment. We strive to create a nurturing training environment that meets the needs of our student base. We believe that learning is enhanced in a positive relationship that develops between the student and instructor.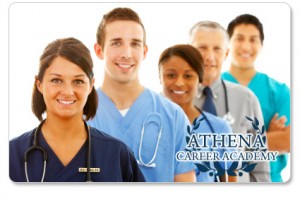 Athena Career Academy employs masters and bachelor prepared nurses as our instructors ensuring you will receive the best possible training. Our instruction is incorporated with teachings in dignity, cultural diversity, and customer service.
Athena Career Academy our instruction includes teaching in the best practices of adult learning and career placement in all of our educational programs. Teaching and Learning exist beyond the classroom lecture to include "soft skills", personal tutoring, "hands on" instruction and student centered learning. Our goal is to make sure our students are trained to make a positive difference in their chosen careers.
Thank you for visiting our website. We encourage you to call and make an appointment with our admission department to start your new future today!
Fully Accredited and Approved by the Department of Education
Athena Career Academy of Sylvania, Ohio was awarded full accreditation by the NCA-CASI, the nationally-recognized and primary regional accrediting body. This accreditation applies to all Athena courses of study, including the Practical Nursing, State Tested Nursing Assistant, Medical Billing and Coding Specialist, and Clinical Medical Assistant programs. Athena Career Academy is also proud to be approved by the Department of Education allowing us to offer Title IV federal financial aid for our Practical Nursing Program to those who qualify.
Vision Statement
To excel in providing students with a quality education program that inspires a respect and value for life long learning.
Mission Statement
Athena Career Academy's mission is to provide quality educational programs that produce a competent and educated workforce.