Athena Career Academy offers training as a State Tested Nursing Assistant. The State Tested Nursing Assistant (STNA) program at Athena Career Academy will present the basics of bedside patient care under the guidelines of the federal and state requirements. We have included some of the most common questions about our program. Please contact us for more details!
What is a STNA?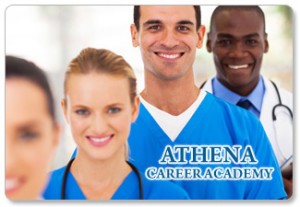 State tested Nursing Assistants (STNA) are a valuable component of the health care team and work under the direct supervision of the licensed nurse. They provide basic care for individuals in their homes or in a care facility setting while interacting with the health care team. Some of the tasks a STNA might perform would be bathing and dressing the patient, feeding them, making them more comfortable and checking their vital signs.
Classes Enrolling Now, Click Here to Apply!
Where do STNAs work?
STNAs work in nursing homes, hospitals, adult day health center, assisted living facilities, even personal homes, wherever there is need for personal care.
What are the admission requirements?
Persons interested in attending the State Tested Nursing Assistant Program must meet the following criteria for admittance:
Complete an online application for admission.
Provide a copy of valid government identification
Submit a registration fee of $25.00
Sign an enrollment agreement.
Complete an online State of Ohio Disclosure Course.
Submit $60.00 and complete a BCI and FBI criminal background check and fingerprinting. The background checks are subject to approval and/or consultation with a director.
Submit a $314.00 Course Fee before deadline date.
Must submit proof of 2-step TB Mantoux or Chest X-Ray.
How long does it take to complete the program?
The STNA program at Athena Career Academy is approximately 75 hours of study and composed of three weeks of campus instruction and clinical experience at an off-campus facility. The STNA course includes 59 hours of classroom and lab participation and 16 hours of clinical experience in which the student will have opportunities to provide patient care. Participants who successfully complete the course will meet criteria to sit for the State of Ohio certification examination.
What types of courses are taught in this program?
STNA training, Home health Introduction and HIPAA certificates will be given to those students who successfully complete the program.
When can I start?
New classes start every 4th week; however, all required documents and out of pocket expenses must be submitted by the registration deadline. The registration deadline is 1 week prior to each start.
This field is in very high demand and job prospects are great according to the Department of Labor! Click here for more details!
Athena Career Academy  STNA Cost
| Program Costs | |
| --- | --- |
| Pre -Registration Fee – Background check 2 Step Mantoux (Cost Varies) | $60.00 |
| Registration Fee | $50.00 |
| Tuition | $314.00 |
|   Total | $424.00 |
| Certification Test Fee (Paid to Athena) | $105.00 |
STNA Student Resources
State Tested Nursing Assistant Disclosure